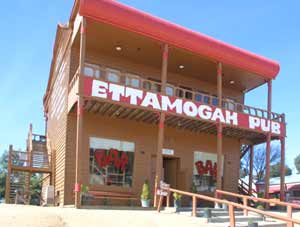 The Ettamogah Pub near Albury, a country town in Australia. What was once an imaginary hotel in a cartoon by Ken Maynard, has now come to life.
Watch out for the barbwire on the backside, get your mits around a schooner, Mate - and enjoy the hospitality of the Ettamogah Pub.
It's just a great place to take your sheila, Mate - 'specially on Saturday arvo when the blokes will be hanging out in the back bar and you can have a yarn about the footy.
The Ettamogah Pub was inspired by cartoonist Ken Maynard who turned it into Australia's most famous comic strip hotel. With leaning walls, a tree that grows through two floors, a dog kennel out the front, and an old truck on the roof (must have been a flood, Mate), the hotel was built about 15 kilometers North of Albury in country New South Wales. Maynard once lived in Albury, so the site is quite appropriate.

A schooner is a glass of beer.
But a word of warning -
don't take any flying lessons.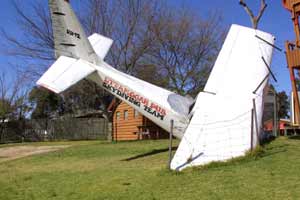 Couldn't get her up in time Mate,
collected the barbwire fence at the
end of the strip, and the bloody prop
just wouldn't turn -
at least we missed the dunny!