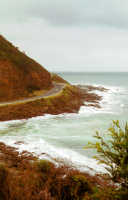 The road snakes around the ragged coast. It's a long day trip from Melbourne, so if you want to enjoy the scenery fully, stay overnight along the way.
The Great Ocean Road travels around the South Western coast of Victoria, Australia. It looks out over Bass Strait and The Great Southern Ocean.
The road was cut into the coast during the Great Depression providing work for the unemployed. It is now a popular tourist route.

The area is one of those breathtaking places in the world that you must see!
The road is narrow, winding and slow - but it leads you to one of the most unique sights that you will see around the coast of Australia.
Book your next trip with these top hotel reservation sites: HotelDetective, Expedia, and Travelocity.
See a wide image
Your first stop will probably be the lighhouse that still guards the entrance to Bass Strait. You can climb to the top and feel the wind and see the ocean surge that has made this coast so dangerous.

But the real attraction is the sight of the Twelve Apostles.
Hewn out of the coast by the action of sea and wind, they stand in testimony to ....... perhaps the strange beauty of nature and the world we live in.
This is a dangerous coast, the graveyard of more than 160 ships. At times a six meter high swell sweeps into the bay, crashing against the tall cliffs. At several points along the coast you will find rock stairs cut into the cliff face. Originally intended to provide a life-saving escape path for sailors wrecked on the coast, these steps now provide access to the beach and the rock ledges. But be careful, the sea can be a deceptive friend.