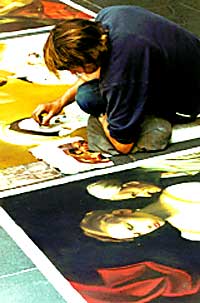 Artist Frank Cuming uses Swanston Street, Melbourne, Australia as his inspiration, canvas and a source of income. His specialty is pastel replicas of the Great Masters.
Frank travels regularly from his home in the Dandenongs into the city to tape his canvas to the sidewalk. People stop, admire, and drop coins into the bucket that is inscribed "Thankyou".
Salvador Dali, Rembrandt and Michelangelo are all there. You don't need to visit the art gallery. You can simply admire Frank's skilled hand replicate the ancient subtleties of line and colour.