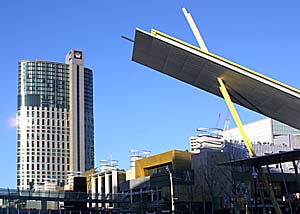 Crown Casino and the awning salute of the Melbourne Exhibition Center pass by as you cruise down the Yarra River to Williamstown.
It's called the 'Williamstown Seeker' - the little ferry that plies between Southgate on the Yarra in the heart of Melbourne, out to the historic seaport of Williamstown on the bay.
As you cruise down the Yarra River, you'll pass by the Melbourne Aquarium, Crown Casino, the Exhibition Center and the growing residential unit developments of Docklands.
Down the narrow channel, past the moored yachts and container terminals, under the new Bolte Bridge and then the high Westgate Bridge, past the smoking chimneys of an industrial area, until finally you are out on the bay.
On Saturdays and Sundays you'll see the yachties in full sail tacking backwards and forwards across the waves. You'll be close enough to the shoreline to see the hopefuls with line and baited hook but the seagulls swooping overhead will probably have more luck catching their dinner.

Smart Clicks:
Williamstown info
Ferry info
Melbourne Aquarium
Ike - the performing dog.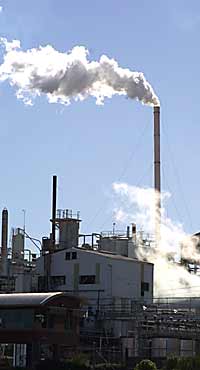 Smoking chimneys in the industrial area.
You'll see a great view of Melbourne from the water and then, finally, the little ferry will drop you at the Williamstown wharf. There really is no need to take too much notice of the return trip times because they are pretty regular.
If you are nautically minded, you'll probably wander up to the naval dockyard or have a look at the smaller shipwrights that still have work along the bay. Maybe you will have a walk through the town on one of the sign-posted walks.
Maybe you will visit the old customs house art gallery. Known as the Customs Wharf Gallery, this interesting venue is housed in the beautifully restored Customs House, built in 1876 and now classified by the National Trust. Here you will discover the work of Australian artists - contemporary and traditional art, ceramics, glassware, woodwork, jewellery, sculpture and more. The gallery director, Vicki Plunkett, will be pleased to help you.
What I'm sure you will do is sit under the umbrellas for a while and enjoy lunch or a coffee at one of the many cafes that line the main street.
And keep your eye out for Ike, the performing dog of Williamstown - he loves teasing tourists!