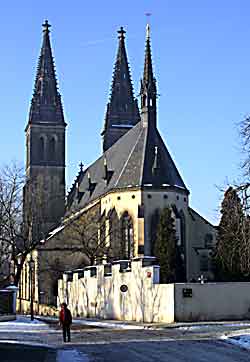 Visitors to Prague should make sure they visit the Vysehrad complex that overlooks the Vltava river to the South of the main city area. Regarded as Prague's mythical birthplace, it is worth taking a quiet stroll through the ancient gates, past the Rotunda of St Martin and on to the multi spired church of Saints Peter and Paul.
You'll find details of the complex in a few tourist brochures or good guides. The easiest way to get there is to catch the metro train to the Vysehrad station and then walk down past the Congress Centre.
Once through the entrance, the first building of note is St Martins Rotunda. Reputedly, this is Prague's oldest standing building. The small round chapel was once used as a powder magazine.
Above - the Church of Saints Peter and Paul
Right - the door of the Rotunda of St Martin.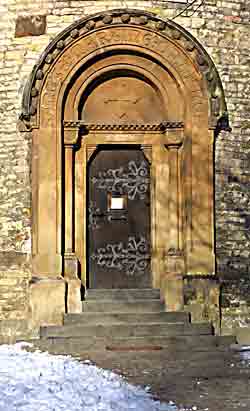 Nearby are some stone clusters believed to be part of a pre-historic soltice marker. But a better set of rocks is the Church of Saints Peter and Paul and the nearby cemetery which holds the graves of some of Prague's famous poets, writers and composers.
What I remember about the place was the opportunity to sit on the old stone wall that overlooks the Vltava River as it winds its way upstream. A flock of birds heading South for winter was using the river to help with their navigation. They have probably done that for thousands of years.