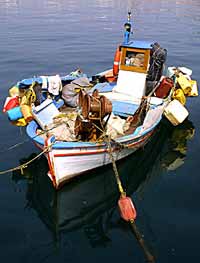 A fishing boat in the harbour at Mytilini - but where will we put the fish?
Journey to Mytilini
It was dark and cold and we walked up and down the dock to try and keep warm, at the same time keeping our eyes on our bags. There were not too many people around yet. We had arrived early because we needed to buy a ticket, but that had been done quickly, the ticket seller seemingly very bored with life in general. No doubt demand and maybe life's prospects will pick up as summer approaches, but for now, it was very quiet.
It was just after midnight and although our ferry to Lesbos was due to depart at 1am, the dock was empty. The fog made the lights on the dock gleam as if you were looking at them through squinting eyes.
Car headlights shafted through the fog with greater haste as the ferry time approached and the dock police had something at last to blow their whistles about. At this time of the year there are only a few ferries from Thessaloniki, so a policeman's life should be a fairly happy one.
People and bundles stood around waiting. And at last moving lights through the fog out to sea revealed the ferry.
PHOTO OPPOSITE:
The dome of St Therapon dominates the back streets of Mytilini.


We are given the signal that we can move onboard and we drag our bags up the stairs. Our ticket is checked and we are shown to our cabin. Thessaloniki to Lesbos is about a 15 hour trip so a cabin rather than a lounge seat seemed like a good idea. And it was - we actually slept till 10am the next morning.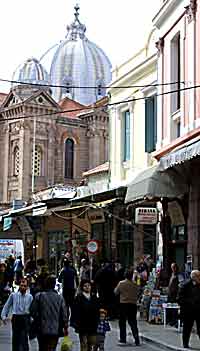 And soon we were sailing down the narrow strait between Lesbos and Turkey, gazing at the Greek side with some anticipation. We studied the small villages that dotted the coastline in the distance. We were joined by a group of porpoises, Jen worried that they would hurt themselves as they dived under the bow of the ship.
The Greek army still looks out over the strait towards Turkey, but now the threat has softened and there is money to be made in day trips to the Turkish tourist sites. But there is really no need to add another stamp to your passport, because there is plenty to see and do on Lesbos.
Our plan was to spend a few days in the capital, Mytilini, and then hire a car to tour around the island, much the same approach as we had taken on the island of Chios to the South a few years earlier. It was probably because of our experience on Chios that we were keen to see Lesbos, these Greek islands of the North Eastern Aegean are just that little bit different to the well travelled Cyclades group.