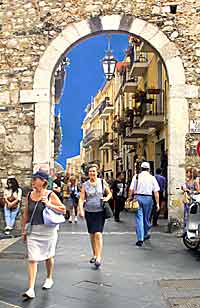 Get ready, go! Corso Umberto, the shoppers' formula 1.

Come on, grab your bag - there's shopping to be done!
Maybe I'm getting a little cynical in my old age, but the beautiful Taormina was spoiled a little for me by the unadulterated shopping push. We were there not too long after September 11, 2001 and just about every shop window (and there are many of them) had the same photocopied sign ...."for American friends . . . ". Perhaps it would have seemed a little more spontaneous if they had done a few different versions of the sign . . . . .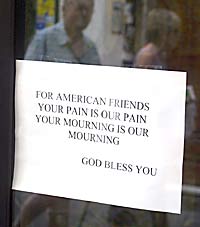 There is no doubt about it, Taormina is beautiful. Perched above the sea and a with a view of Mt Etna, its lovely building facades, the arches, the narrow lanes and steps provide an enchantment that is easy on the eye but not so easy on the pocket. Once the village became popular with the European jet set, the locals soon learnt that "Oh, I bought it in Taormina" is worth an extra premium on the price.
Parking is also at a premium, and they have a prompt tow-a-way service if you transgress. They are building a multi-storeyed concrete car park just below the town (let's hope they don't spoil the view) and the tourist coaches keep on rolling in (they even sell ferry/bus packages from Malta to visit this town).
Maybe the best idea is just to leave your credit card at home and catch the bus up from Catania.
But bring enough cash to pay your entry into the Greek theatre (3rd Century BC and then remodelled by the Romans) and a great view of the surrounding countryside.
There are about 11000 permanent residents in Taormina - maybe they all know where the pot of gold is.