Teresa asks - "I will be in the Tropea area in September. Can you recommend any good hotels to stay overnight either in Tropea or in the local vicinity."
In September, the season is winding down and I would not expect that you will have any problems finding accommodation providing you are arriving before mid afternoon. In the main street you will find the tourist office and the staff are extremely helpful - they can arrange accommodation for you when you get there (we didn't book ahead) and they will ring around to see what is available at the price you are prepared to pay (and at that time of the year even do a little negotiation for you). Be prepared to pay upwards of $USD60 per room depending on the standard you want. There are hotels and boarding houses and private residences. The telephone number for the tourist office is 0963 6 64 75.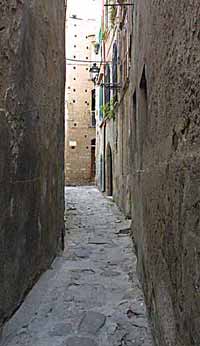 One of the narrow alley ways.