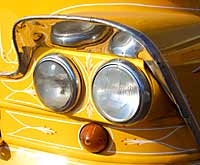 Assocjazzjoni Trasport Pubbliku or the Public Transport Association runs a number of bus routes around Malta.
There are more than 500 buses on the island working the established public routes, carrying children to and from school, and even doing special night runs from the popular night spots.
All the buses carry the same livery - yellow body, white top, with an orange slash separating the upper and lower colours. These colours are a fairly recent inovation - prior to 1973 the colour scheme varied according to the bus route.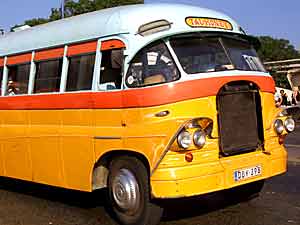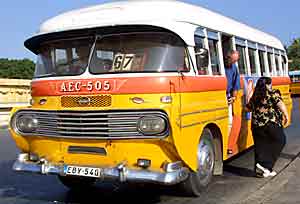 Route 138 - From Valletta via Marsa, Mgieret, Water Services Corp., Airport Cargo Terminal, Mqabba, soft stone quarries, Qrendi to Hagar Qim and Blue Grotto. Leaves the bus station at Valletta at 9.45, 10.45, 11.45, 12.45, 13.45, 14.45 and 15.45