The procession of the faithful and the curious up the slope towards the cave Temple of Dambulla is looked over by the equally curious monkeys - at least it gives both of us something of interest as we climb towards the caves.
At the top, you remove your shoes and enter the paved temple courtyard. The caves stretch around the side of the mount and from this vantage point there are some wonderful views over the country-side. You can even see the Sigiriya Rock about 20 kilometers away in the distance.
Decorative facades have been built across the entrances to the five separate caves that make up the complex.

Inside the caves you will see more than 150 images of Buddha together with representations of several of the Hindu gods.
The roofs and walls of the caves are covered in frescoes and some of the interiors are gilded.

Photography is not allowed inside the caves (apparently since a tourist was discovered posing for a photograph sitting on Buddha's lap).

And I am pleased that we had our torch as the extra light enabled us to view the frescoes better.

We were the curious. But many come here because of the religious significance of the site.

And they have been doing this since the caves were originally inhabited in the 1st Century BC.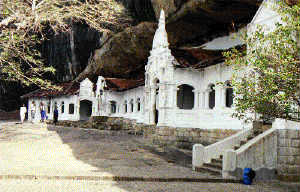 The entrance to the caves.