The baby elephants loved lying in
the mud (all kids do!).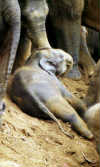 Join us on a special photo tour to see the elephants! With Travelsnapz you can do it for just a few clicks!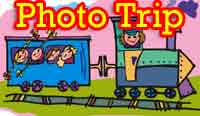 There is a special place in Sri Lanka.

It is about 3 hours from Colombo on deisel choked roads. You arrive and walk down towards the river, through the banter of traders offering souvenirs and postcards.

And there they are. Enjoying themselves, having fun, rolling in the mud, and knowing that here, they are safe.
The Pinnewala Elephant Orphanage was established to look after orphaned wild elephants.

There can be up to 60 elephants here at any one time, and they are a delight to see, especially at bath time.

If you are an elephant lover, you can spend an hour or more just sitting on the bank overlooking the wide expanse of river, getting your fill of elephants!


There are some really small elephants here, and some "mums" to keep order in the nursery.

You can feel the warmth and relaxation in the way they nudge each other.

You'll probably get a glimpse of the elephant that lost part of one leg in a land mine explosion - it's a reminder that Sri Lanka has an ongoing conflict that can hurt the innocent.

But for now, there is all this glorious mud - and that's just yum!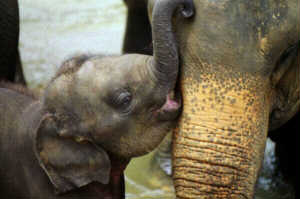 Can I go and play in the mud too, Mum?