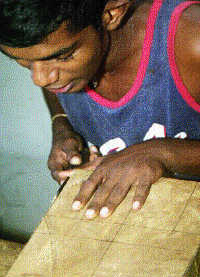 The initial cut, eventually a work of art.
A good place to see traditional masks being carved is in Ambalangoda, around 90 kilometers south of Colombo on the road to Galle.
This is where you will find the famous mask carvers and their apprentices, and you can watch the action. Look around in the northern end of the town on the Colombo road. You will find an excellent mask museum with friendly guides to walk you through and tell you about the dances in which the masks are used.




There is a shop above this museum where you can buy a variety of souvenirs, including good quality masks.
Alongside the museum, you can watch carvers at work and see the development of a mask from the block of wood to the colourful painting and adding the hairy bits.



There is a local school of dance also, so ask around and you might be able to see the masks in action.
You may even get to see the traditional Kolam, a masked dance/drama piece.