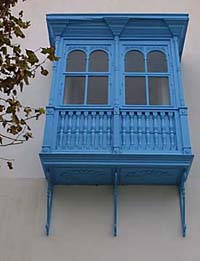 Typical Tunisian window casing.
We sailed to Tunisia on Monday 5 November 2001. It was an early start leaving our Trapani (Sicily) hotel at 6.30am to be at the dock by 7am. The ferry had already docked when we arrived, coming down from Sardinia, and the semi-trailers were rolling off.
The ferry looked more like an oil tanker with a high rear superstructure and a flat forward deck. Stern-in to the wharf, there were two gaping entrances - one ramped up to the deck in front of the rear superstructure and the other leading down to the bowels of the ship. No wasted cargo space on this boat.
We joined what was a sort of a line in front of the ticket office and eventually got to the window. A ticket for two, no car, open return. No problems.
Then around to the customs window and we hand in our passports for our exit stamp. We gather through sign language that we just leave our passports and come back in 30 minutes. With nothing much else to do we hang round the window with the rest of the crowd. Did I here my name called out? I'm not sure. But then "Australia!" and everyone points to us - is it that obvious that we are the only Australians making this trip?
We then sit on the wharf to await boarding time. Nothing seems to be happening - the ship has been unloaded and people and cars and trucks wait expectantly but the police and officials are just standing around. But soon the movement starts and we get our bags on board and up to the saloon. We are one of the first on board and we stake our claim to a comfortable couch for the eight-hour trip. The ferry is due to leave at 10am and finally starts to move half an hour late.

I've been told that
Tunisia is not too
worried that you have
been in Israel before,
so it would appear that
you need not be concerned
if you have Israeli
stamps in your passport.
Best to check the current
situation before you travel.
Alina writes:
June, 2002 .....the Tunisian embassy in London advised us that it did not matter where we have been as long as we travelled on Australian passports. So, we decided to go. When we landed in Tunisia, there were 7 people in the queue, including 2 of us, to get entry visas. Amazingly enough, all 7 of us (from the same flight) were Australians. At the end, we all got our visas, after about 15 minutes waiting. I do not know whether they even saw our Israeli stamps, I was too scared to look. My husband and another OZ guy had to go to the main airport building, past passport control etc to change some money. Tunisians refused to accept US dollars or pounds as a form of payment for the visas.

The holiday was OK. The weather was great, but we found the sea a bit dirty especially by Australian standards.
We are joined nearby by a couple of Italians - agricultural specialists who live in Marsala and regularly make the Tunisian trip to supervise projects - and an expat American (Bill) who has been living in Israel and is going to Tunisia for a holiday. He tells us that he had to go to Egypt to get a new USA passport for this trip (we had also been told that you can't enter Tunisia with evidence that you have been in Israel but we didn't tell Bill that we were also sporting new passports)[SEE SIDE NOTE]. Bill's son works in tourism in Israel - but now there is no work.
Jen's Italian expertise enables us strike up a limited dialogue with the agricultural specialists. We tell them that we have been to their home town of Marsala and that it is a beautiful city. They are brothers and the photos come out of a recent 1st birthday party and we are introduced to all their families.
Around us is a mix of Tunisians and Italians, mostly men, the Tunisians returning home after working in Europe for the summer.
At last the coast of Tunisia is visible in the darkness and we drag our bags down to the vehicle deck ready to disembark. The ramp drops down and we head up to the customs hall and get in line. "No visa?" "No, we were told we could get one here", we are taken off to another area to get our visa stamp and pay our visa fee ($US3 each).
Then back up to the customs hall and we have our bags inspected. I declare my camera, lenses and laptop and fill in a form that is in French/Arabic so I am only guessing at some of the responses. The various serial numbers are recorded in my passport and I am told that I must take the camera and laptop back out of the country when I leave. Jen quips that I would leave her behind before I would leave the camera so that seems to satisfy the customs officer and he sends us off to get the form stamped and we are through the door and in Tunisia.
We get ripped off by the cabby who takes us into Tunis proper (about 10km from the port) and we check into our hotel, dump the bags and go for a wander. Our hotel is in central Tunis just near the medina (the old centre of town) and the wide main street is full of people strolling along enjoying the night air. There is a concert on the steps of the theatre with a large crowd enjoying the singing.
People say "Bonjour" and "Bonsoir" as we walk along - everyone seems friendly. Tunisia is a mixture of French, Arabic and Berber cultures. Some girls are wearing Islamic dress, but most are in Western clothes. Obviously people notice us as visitors but there is no sense of hostility.
We find a restaurant and have our first "brik" - a local speciality that consists of an egg in a thin batter shell that can contain other ingredients (this one has potato) - and the obligatory couscous. We pay over our 10 Dinah's (about $US6) for the meal and return to the hotel for a good night's sleep.
It is good to be here. We are looking forward to experiencing this culture.