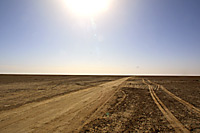 The Chott el Jerid, near Nefta, all that is left after the retreat of the Mediterranean Sea millions of years ago.
We didn't see any Sufi mystics when we visited Nefta, maybe they were hidden by the 300,000 date palms that surround this small western Tunisian oasis.
But we did get to ride a camel at the small Berber encampment about 15 kms out of town towards the nearby Algerian border. The few Berbers that live here in their traditional tents make a living (?) making a few nicknacks to sell to tourists and will also take you for a short camel ride over the sandhills. Well, you get to experience what riding a camel is like, I guess.
There is a date processing plant in the town, and this provides seasonal work (mainly) for young women while the boys are out climbing the trees to cut the date stalks. There doesn't appear to be much else to do when the dates have been picked and processed.
The town itself sits around a huge depression (corbeille) which is ringed by some big tourist hotels, well positioned to catch the sunsets.
The Chott el Jerid (a huge expanse of dry nothing) is nearby. There are friendly cab drivers in the main street and they will be happy to take you for a drive to see the sights.