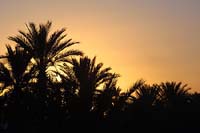 Sunrise over the palms at Tozeur.
Each morning . . .



our room is filled with a lovely warm glow as the sun comes up over the palmerie.

We are staying at the Residence el-Arich, a pleasant hotel that backs on to the date palms that grow around this thriving western Tunisian oasis of Tozeur.

We have breakfast on the roof of the hotel and then there is plenty of time afterwards for a walk through the green of the oasis.

Its date picking time. The workers spread a huge tarpaulin under the trunk and one climbs to the top to cut the long spindly date stalks and then drops them seven metres to the ground below.

There is plenty to see and do in Tozeur. The old labyrinthine quarter, Ouled el-Hadef, is well worth a visit to see the striking brickwork that sets this town apart. The brick patterning is repeated in the newer part of the town and you can also see it in the unique carpets that come from around this area.

For the shop-till-you-droppers, there are more than enough carpet and souvenir shops, and a government store where you can check what is a reasonable price. The Zoo du Sahara and Jardin de Paradise are on the southern side of the palmerie, and the walk will let you appreciate the quietness of the oasis, and enjoy the sound of running water and the birds darting around.
The Museum Dar Charait is a must. Divided into three sections, we visited the ethnographic area that also includes a small art gallery featuring Tunisian painters, and then in another section, we were charmed by the stories of the Arabian Nights.
Our days usually finished at the 'Capitol Restaurant' where Mohamed looked after our needs, and although the non-alcoholic beer made the water taste good, the food was excellent.
From Tozeur you can make easy trips to the nearby oases of Tamerza and Nefta, and you are not too far away from the Chott el-Jerrid, the largest of Tunisia's dry salt lakes.
But those trips are for another day. Tonight we will just sit and watch the sunset.