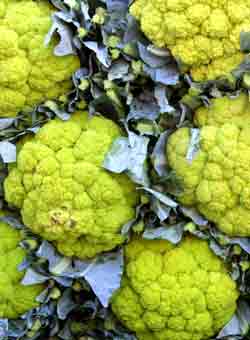 Market cauliflowers at Palermo, Sicily.
Street market experiences from our readers . .
From Mike Kingdom-Hockings at (I'll show you things you'd never find....) France for Freebooters
"While I was working in Paris, we lived on the outskirts of the city, with Marly Forest at the back door.
Every Sunday morning, we'd walk 2Km along a narrow lane with the dogs, and tie them to a lamp-post in Marly Market while we bought prawns, cheese and home-made raspberry flan. Then we'd trade in last week's secondhand books and get new ones before setting off back home.
Even in winter, we'd sizzle up garlic butter and cook the prawns whole, washing them down with a kir made from cheap 'vin mousseux' and creme de cassis. The dogs and cats got the prawn heads.
Marly market was exceptional - every second week, there was an oriental carpet stall which usually had at least two silk Qums as well as less expensive items."