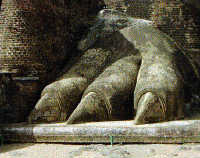 Entrance to the palace complex was between two giant lion paws and through the lion's mouth!
Legend has it that Kasyapa was not a nice fellow.

He was the son of King Dhatusena, but by one of the palace consorts.

Fearing that the legitimate son Moggallana would assume the throne on King Dhatusena's demise, Kasyapa decided to take control and imprisoned King Dhatusena (the rumor is that the imprisonment was rather permanent because he was sealed into a wall).

Expecting a similar fate, Moggallana fled to India.
In preparation for Moggallana's eventual return, (now) King Kasyapa built his fortress on the Lion Rock at Sigiriya.

The rock rises 600 feet out of the plain. The palace fortress is surrounded by water gardens and cooling pools that still amaze engineers for their early application of hydrological principles.
After you climb past the frescoes of the court ladies, you reach another platform where two enormous lion paws were excavated by British archeologists in 1898. It is said that the entrance to the upper palace platform was through the mouth of a huge lion.
You gain the summit of the rock now by way of a narrow steel staircase. And at the top, a spectacular view of the surrounding countryside, and a bird's eye view of the water gardens below.


The service was excellent



Tell them Travelsnapz sent you.
There is much of the Lion Rock and surrounds that is yet to be investigated - perhaps future generations of archaeologists will discover the truth of the legend that says King Kasyapa took his own life when Moggallana returned to seek revenge and claim his birthright.