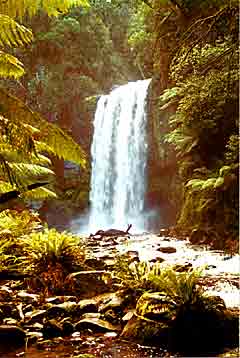 Hopetoun Falls, one of the world class sights in the hinterland behind Apollo Bay.
The little town of Apollo Bay is about 190 kilometers South West of Melbourne on the way to the Twelve Apostles, a unique coastline of eroded ocean cliff faces.
The town nestles in a bay where you can fish, swim and surf. There is accommodation for rent and plenty of opportunity to enjoy a first class meal or just a snack.
But don't just look out to sea. In the hinterland behind Apollo Bay are interesting bush walks and spectacular waterfalls.
Call in at the helpful Information Centre, pick up a guide, and point your car inland. Some of the roads are dirt but passable except maybe in extremely wet weather. The area is well signposted.
You'll probably head west along the coast road first and that gives you the opportunity to call in at Maits Rest. Here there are boardwalked paths that will guide you through the ferns and tall trees. In the underbush, you'll see interesting fungus growths.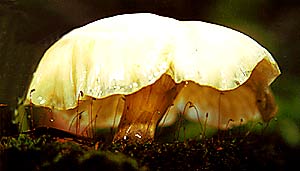 Fungus growth at Mates Rest
Then you can head inland into what is probably called a temperate rain forest area. In the past this area was logged to supply timber for home building in Melbourne. But now the loggers are gone and peace and tranquility will make your their guest.
Make sure you have plenty of time. Some of the walks into the waterfalls are long, but along the way you will be rewarded with wonderful sights and sounds of the bush.