Site Links:
It's not on the tour bus itinerary, but a leisurely visit to the Sandgate area near Queensland's capital city, Brisbane, can be interesting non-the-less.
Probably once considered as a "retirement" spot, the change in transport patterns - fast highways, improved train and bus connections - has now resulted in this area developing as a commuter suburb of Brisbane. This is probably one reason the old Queenslanders (lovely old stilted wooden houses with wide verandahs) have been given a new lease of life.
The climate of Queensland gave rise to the practice of building houses on stilts to let the cool breezes penetrate. With modern air-conditioning, the cool 'under-house' areas of these older houses are now often walled in and developed as extra living space.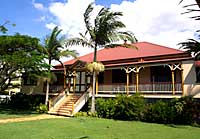 Looking out over the bay, this old Queenslander has wide verandahs and an airy underneath area to beat the summer heat.
There are some magnificent examples of these buildings scattered around the wide streets of Sandgate that run down to the bay.
Just around the point, Cabbage Tree Creek meanders through the mangroves and the Boondah Wetlands, past the Queensland Cruising Yacht Club.
When the tide runs out, the mud flats and channels appear, but the close proximity of Sandgate to the bay areas means that there is a nice cooling breeze coming off the water, and it's a good place to relax after the frustration and pressure of a day in the city.