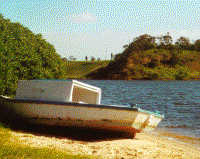 A boat on the sand at Lakes Entrance, a pretty seaside resort. Dargo is inland from Lakes Entrance.
GUIDEBOOK ENTRY:
Dargo, Vic:
Pop Nominal (323km E Melbourne) Agricultural district. Fuel available limited hours. Bush walking, fishing, gold prospecting, scenic drives, swimming (river), tennis.


We had spent a couple of days at Lakes Entrance (on Australia's South East coast) - a very pretty place with the 90 Mile Beach looking out over Bass Strait, and pleasant inland waterways where holiday makers can cruise in their yachts, catch a few fish, and swim.
But today we were heading for Dargo - a little town up in the hills - for the Dargo walnut festival.

I don't know how big walnuts are in Dargo, but I suppose any reason is a good reason for a small town to have a festival.

The guidebooks quote Dargo's population as "nominal" which probably means that they haven't bothered to count it for a while, but on festival day they come out of the hills to enjoy and compete in the various fund-raising events.
Three events are stand-outs - the hay bale stacking contest, the sheaf tossing competition, and the King of the Mountain, a sprint up and down a steep hill (were they carrying a bag of walnuts?).

Steve got involved in the sheaf tossing - using a pitchfork to toss a sheaf of straw over an ever-rising pole vault bar - and did remarkably well.

But the locals are well practiced and the toss-off came down to two strong-shouldered lads from nearby towns, so the banter and the barracking was fierce.




Narradene from Dargo says:

"Population here is 60 - 80
permanent thro' the week
and up to 160 on week-ends
etc. This doesn't include
campers, 4wdrivers etc.
We've got great scenic
4wd tracks,best around,
4 rivers, general store,
winery, caravan park and
the famous Dargo Hotel
and not forgetting Victoria's
forgotten Gold-field.

What else
would a person want?

Cheers Narra"
Thanks for the feedback, Narra
Got something
to say about
Dargo?

I didn't think that hay bales could be so much fun. Teams of two have to carry hay bales from one end of the field to the other, and then stack them.

The laughter, of course, comes as the bale stack gets higher and higher and one member of the team has to get on top to continue the stacking.

The lower bales slowly disintegrate and the stack gets a Pisa like lean, and if you are not careful, you get a mouthful of straw.
And I forgot to mention the dog high jump.

It's a popular contest with local and visiting hounds, although some prefer just to sit and ponder on the stupidity of it all.


There's a good feeling in Dargo. A sense of community and friendship.

The local school has just re-opened after years of closure due to lack of students, and there's hope.

And maybe the population count should be on Festival Day so the guidebooks can say something other than "population - nominal".