Click away to:
Australia is such a big country. It's about twenty-five times the size of Italy, not all that much smaller than the US of A (at least in land size!) and maybe fourteen times the size of France.
But when I look at the info that I have on Travelsnapz Australia, I'm embarrassed that it is so little.
I guess I have been spending too much time in other places! But I'm going to put it right. Australia is my project for the next 12 months, so you can look forward to an expansion!.
In the meantime, enjoy what is on the site. Take our country tour, or click directly to one of our featured stories.
With Travelsnapz, you can travel Australia in just a few clicks!
Site Links:
Leave your mark

Marvel at the wierd coastline along Victoria's South Eastern coastline. This is a popular tourist drive that you can do from Melbourne, although to enjoy the scenery to the full, you should plan an overnight stay.
But this is Travelsnapz, so you can do it for just a few clicks!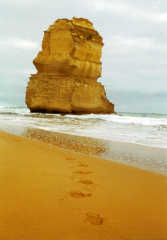 Tasmania
The island to the South of the main Australian continent. Tassie, as it is known to the locals, is a very pretty island. Steeped in convict history, in some places it is though time has stood still. I'm working on some stuff to put on site, so stay tuned!
Travelsnapz is designed
for your entertainment.
Please read our terms of use.
Contact the author at: rcdobbie@alphalink.com.au
Victoria
This is where I live. Until I get my act together to provide you with the Travelsnapz view, click on the symbol below: