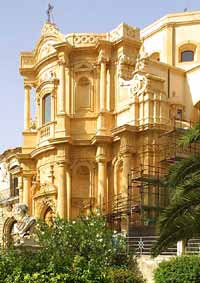 Chiesa di S. Domenico e Convento in Noto
Noto is just a short bus journey West from Syracuse. In the promotional pamphlets it's called "garden of rock" because of the lovely rose-coloured local stone that has been used to create most of the buildings.
The big shake of 1693 gave the townsfolk the chance to rebuild (you have to be positive about earthquakes) and with most of that done in the early 1700's, the old part of the city is a baroque masterpiece.
When we visited, the city was going through something of a renaissance, with hoardings and scaffolding (overlooked by steel cranes) around a lot of the important buildings - obviously getting a facelift for the enjoyment of visitors in 2002. But there was enough of the town visible to appreciate its beauty and the scaffolding that hid the front of the cathedral was adorned with a huge photograph of the building.
Other Postcards from Sicily
[Catania, Sicily]
[Erice, Sicily]
[Marsala, Sicily]
Palermo, Sicily
[Syracusa, Sicily]

The one building that you can't take a photo of is the old monastery and I was chased off by the machine gun toting polizia on duty (the building is now the local correctional facility).
There are some 20 plus churches in the space of a few blocks from this place so there shouldn't be a need for a facility of that nature anyway!
Help Please
Nathan Noto from Fulton writes "Before my dad died he told me that the family was related to the founder of Noto. Can anyone give me information on how Noto got its name and any details of the founder?" If you can help with any information, write directly to Nathan Noto.