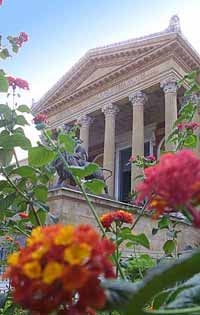 The Palermo Opera House - Teatro Massimo - where Caruso started his career. More Photos
Caruso started his career here. He stood on the stage of the Teatro Massimo in Palermo as an unknown singer and went on to conquer the world.

Palermo's opera house is relatively new - the building was completed around 1897 after a building process that took over 20 years.

In fact the original architect who won the design competition for the building passed away before it was completed and the work was taken over by his son.
It certainly is an impressive building, the third largest opera house in Europe. In its current format, it seats around 1400 people with 7 tiers of boxes rising up around an inclined stage that has a depth of over 50 meters.

Teatro Massimo has a good online site where you can see images of past productions, details of the current season and book tickets.

Hotel del Centro offers competitive family-run clean accommodation at Via Roma, 72 in Palermo. We stayed here, so we can vouch for the friendly service.
Palermo is an interesting city. Narrow lanes that look the same as they did centuries ago, contrasted by wide tree lined boulevards - there is a mix of culture here from the ancient Phoenician and Byzantine through to Arab and Norman, and of course the more modern urban sprawl.
These different cultures are reflected in the architecture and customs of this large city.
There is some beautiful religious art here. Some of it is contained in the many churches but the more important works are collected in the Palazzo Abbatellis, a beautiful Norman building that is now the Sicilian Regional Gallery of Art.
The religious icons that are displayed in this building are over 400 years old and include statues and paintings.
But you shouldn't spend all your time in museums and galleries in this city. There is plenty to see just by wandering around.
As in most Italian cities there is a thriving market area tucked in behind the main streets and some of the narrow lanes are dedicated to one particular craft. Via Caldera just near our hotel could have been called tin can alley - on this street you could get just about any metal utensil you wanted.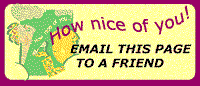 Behind the university building sits Chiesa del Gesu (Casa Professa) one of the most decoratively beautiful churches that I have seen. We were lucky enough to arrive just as the weekday service was ending and the sound of the organ welled up around the tall arches.
There are parks and gardens around the city and a large port area with ships and ferries coming and going. And of course the traffic - what Italian city doesn't have the mad chaos of trucks, buses, cars and bikes that magically disappears at siesta time but returns mid afternoon.
Any large city seems daunting at first, but Palermo and its people are inviting and friendly. And who knows, if you go to the opera you might even meet a budding Caruso.