And then the commotion broke out.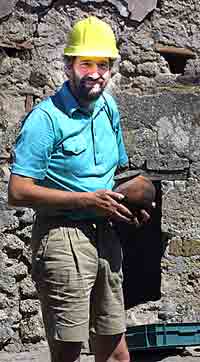 I raced up the narrow cobble stoned path between the still standing walls. The shouts were coming from a pile of rubble. And then he emerged, clutching the pot and wearing a yellow helmet and a big smile.
"We don't find much around here anymore, so when we do, there is plenty of excitement" he said. "OK, picture time" said his colleague, and he posed with his find.
They had been digging in a collapsed kitchen. From what they could work out, the kitchen above had fallen into the cellar below. And this was a good find. The ancient pot contained remnants of food, so that just added to the kudos.
It wasn't gold or silver. It wasn't ancient bones or a tablet letter from Pliny the Younger. But it was another piece of the puzzle - a bit more knowledge about ancient life. Now, why is that important?