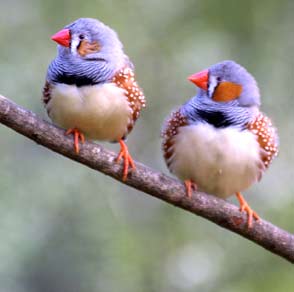 A couple of native finches at Healesville.
Healesville. The place is well named because, as the chatter of the school group faded off into the distance, a wonderful gentle elixiure of sound and sights envelopes you. It's good for the soul.
I am sitting in one of the big aviaries at the Healesville Sanctuary. The birds are flitting about as though I am not there. It seems so natural.
The Healesville Sanctuary, about two hours drive out of Melbourne, is a unique place where Australia's native animals live within natural bushland habitats. Wallabies, kangaroos, echidnas, koalas - all seem to go about their business without noticing you.
The stars of the show are perhaps the birds of prey - several times a day they fly around an open skyed demonstration area with a commentary from their caring keepers.
And even the very shy platypus is there to be seen, swimming around in a specially constructed viewing area where you stand in the half light, almost part of their world. Not many people have seen a platypus live, so here's your chance to witness one of nature's strange mixtures - a mammal with a duck bill and webbed feet, body covered with fur, that lives in a burrow and feeds through the stones at the bottom of the creek.
Healesville has been operating since the 1930's. It's not just a zoo - they work in animal rescue and rehabilitation, research and conservation and educating us to the joys of natural things, both flora and fauna. A visit is certainly a healing experience, a battery recharge, the chance to see things as they should be.
Go soon just in case we lose the battle.