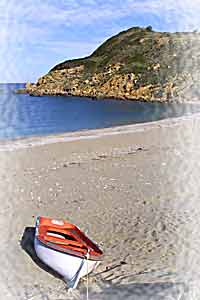 A quiet beach on the Northern coast of the island.
PHOTO OPPOSITE:
The Chapel of the Evangelistria Monastery where the blue and white Greek flag was first raised. The Monastery has a small museum.
Beaches, some lovely green scenery, a pleasant harbour, friendly people (that's often a cliche but here they genuinely seemed to be friendly) - a great place for some relaxing over a beer in the afternoon sun.
Where? Where is this place you ask? . . . Skiathos, of course!
Skiathos is a small Greek island with some historical significance - it was here in 1807 that the blue and white Greek flag was first flown. The ceremony took place at the Evangelistria Monastery which is about 10 minutes out of town (or around 2 hours if you walk like we did).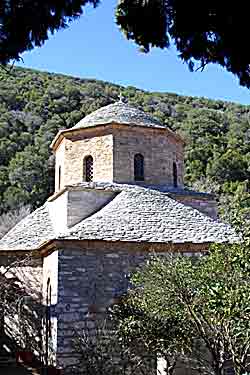 It is pleasant enough up in the hills, and it gives you the chance to see a bit of rural life - goat herders still practicing their craft, olive groves clutching the rocky outcrops.
But most that come to this island come for the beaches and the bars. And there are plenty of both. On the 42 square kilometers (16 square miles) that is Skiathos, there are some 90 beaches. We are doing our best to count the bars!
The travel poster beach is reputedly Koukounaries. We didn't get there but they say it is an idealic ribbon of golden sand with the sea on one side and a lagoon on the other. They also say that in summer it is covered in tourists, umbrellas and beach chairs, the latter two for hire; so if you are looking for a quiet life, try one of the other eighty-nine beaches.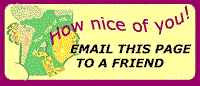 The main town on the island is strung between two hills. Climb the steps of the Eastern hump to the little restaurant that enjoys a great view over the harbour where the ferries and flying dolphins dock on route to Skopelos.
Skiathos has an airport, so summer brings the package tourists looking for a good time and a sunburn. But if you can get here out of season, you'll get an idea of why Greeks are so laid back and content, and live till they are ninety-eight.