Country Click:
Greece
Much more to come.
You'll visit Chios, Ioannina, Lesbos, Meteora, Mt Athos, Philippi, the strange geometrics of Pirgi, the beautiful beaches of Skiathos and stop by at the market in Santas Street. More to be added to the tour soon.
Welcome to Greece on Travelsnapz.
Greece has always held a fascination for those looking for a relaxed atmosphere, friendly people, good food, ancient cultures, interesting history, island life, the sun, ..... well, the list could go on and on!
And on Travelsnapz Greece, we'll show it all to you for just a few clicks.
In fact we expect that Travelsnapz Greece will just keep on expanding - the place just calls you back and back.
---
What can you do on Travelsnapz Greece?

You can take our Guided Tour, take a mystery click, or relax in one of our featured destinations below.
Your feedback is important to us, so let us know about your experience.
Site Links:
Do you have a site? We are interested in reciprocal links




Story and photos of Ypsilou Monastery
Visit the market at Santas Street, Thessaloniki
Photos of Zografou Monastery and a link to our Mt Athos story.
Ancient Philippi - the end to the Roman republic?
Skiathos - Postcard and Photos

Greek Tourist Board
Greek Ferries
Greek Rail
Why just go for the sun, what about the culture?
Greek Island Postcards
Ioannina and the Zagori area in North-West Greece is a region of high mountains, deep gorges (the Vikos George is the deepest in the world), beautiful lakes . .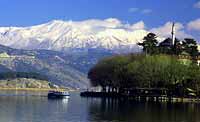 When you think of Greece, you think of good food, relaxation, history . . .
Put some of those memories on your bookshelf
Check out books on Greece.
Tell us what you want
on Travelsnapz Greece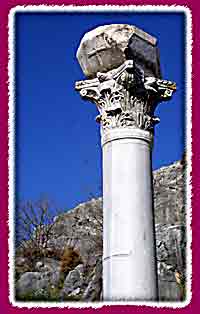 A column at the ancient site of Philippi in the North East of Greece.
Beaches, bars and Greek history - what a combination awaits you at Skiathos. There are no great monuments, but this is the place where the blue and white Greek flag was first raised. Take a ferry or fly - or see it for a few clicks on Travelsnapz.

Contact the author at: richard@travelsnapz.com
---
Greek food is simple and nice. It's one of the things that just keep you coming back to Greece!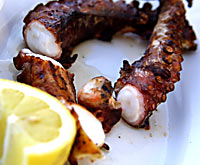 When we get a recipe from Penny and Kostas, we'll publish it on Travelsnapz!
Join us on a visit to the monasteries of Mt Athos.
Soon to come:
Rhodos, Athens, Skiros, Crete, Santorini, Delphi ..... much, much, more!
This site is designed for your entertainment - please read our terms of use