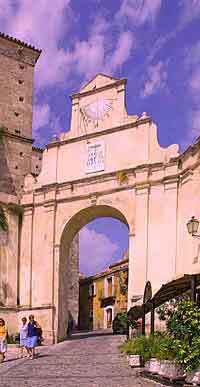 The sun dial arch at Gerace
Gerace is situated inland from the coast that forms the sole of Italy's boot. It perches high on the top of a hill and the road up zig zags backwards and forwards as it rises to the town gate. You can drive your car to the top of the town, park, and then after enjoying the view out to the ocean, you can take a leisurely stroll down through the flagstoned streets.
Gerace is not a Taormina - it doesn't have the shopping strip or the hoards of tourists - instead you will find a town that seems not to have changed for hundreds of years.
Besides the quaint buildings and the twisting lanes, the most important monument is the 11th Century cathedral which contains the nucleus of the future Diocesan Museum. The museum is situated in the cathedral's lower Chapel of St Joseph and contains statues and crowns of silver and gold and other important church relics and treasures.
From the chapel, you can climb the stairs to the main body of the church. The ceiling soars above and is supported by Corinthian columns. Here there is an alter that was consecrated to celebrate the 950th anniversary of the church by both Catholic and Orthodox priests - the first to have this honour since the churches separated in 1024.
Near to the cathedral is an interesting archway that forms a very useful purpose; there is a sundial to help you keep track of the time (but in common with a lot of clocks in Italy it is not adjusted for daylight saving time).