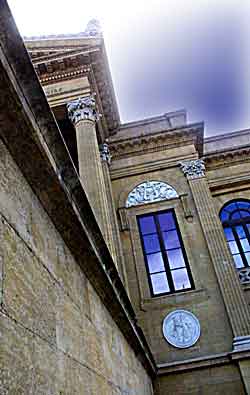 Above: Exterior of the building.
The grand staircase up to the
columned entry is just to the left.
When the original patrons of the Palermo Opera House, Teatro Massimo to use its official name, watched the curtain first go up in 1897, they had waited 20 years for the event. Cost over-runs, political in-fighting, the death of the original architect - all had added to the delay. Well, this is Sicily!
When


the theatre closed in 1974 to complete renovations required by updated National safety regulations, it was another 26 years before the curtain was to rise again! Cost over-runs, corruption, political in-fighting - all added to the delay. Well, this is Sicily!
Right: Painting detail on the front
of one of the theatre boxes.
But if you get the chance to attend a performance, or take one of the regular guided tours, then don't miss it. The theatre is a wonderful example of a classic performance venue. From the steps that greet you at the front, through the foyer (don't miss the ante-room where whispers can be heard - those with secrets take note), to the tiered boxes that look out over the stalls - looking is almost as pleasurable as listening to a performance.
And the Caruso connection? In the early 1960's he tried out the role of the Duke of Mantua in Rigoletto. He went on stage in Carpi and in Brescia but it was under the direction of the maestro Tullio Serafin, at the Teatro Massimo in Palermo, that he achieved a resounding success. From that moment he began to receive invitations from numerous opera houses and his reputation outside Italy prospered.