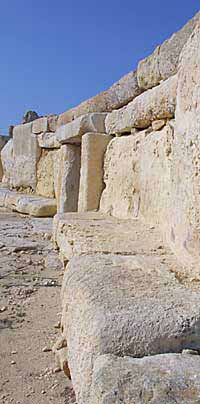 The entrance to the temple at Hagar Qim.
At Hagar Qim, on the less populated southern coast of the main island of Malta, sits a complex of the ancient temples of the Copper Age.
These rocks were stacked around 5000 years ago and that makes them some of the oldest free-standing rock constructions in the world. We caught the local bus right to the site and for a while we were the only visitors. It was a quiet spot looking out over the Southern Mediterranean. The day was pleasant enough to sit amongst the rocks for a while and wonder about the progress man has made so far, and whether or not we will do any better over the next 5000 years.
The complex at Hagar Qim is just one of the Copper Age building sites on the Maltese archipelago. They show a sophisticated engineering knowledge that was perhaps unique to the people of the region at that time.
Near Hagar Qim, we found a small inlet protecting the colourful local fishing craft (perhaps making more money now by transporting tourists around to the "blue grotto"). Everyone seems to be making a buck in Malta - the combination of high employment and low inflation has created a very high standard of living.