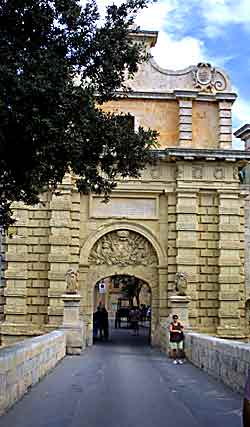 Buses 80 or 81 will get you to Mdina which is situated in the centre of Malta.
The entrance to Mdina, Malta is one of the most classic entries to a small town you will ever see. Across the bridge that spans the old moat stands a classic arch with a magnificent mantle - this town's got class!
And the architectural wonders don't stop there. All through this place there are great porticos and impressive buildings. Perhaps this wonderful stone work is a legacy of being a former seat of government for this island nation - but what a legacy to have.
And what a history this town has. St Paul was even here - he was shipwrecked on the island and enjoyed the island's hospitality in this very place.
Settlement of this area goes back over 4000 years and it was the Phoenicians who eventually realised the strategic importance of the site and they fortified part of the town around 1000BC. They gave the city the name of Malet. When the Romans came the city was renamed Melita and even then was described as having beautiful buildings. Many of the current buildings incorporate and re-use some of the ancient Roman stones.
Right: The carved stone mantle over the city gate.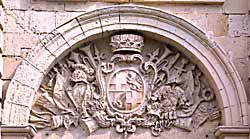 It was in AD60 that St Paul was shipwrecked on Malta. He cured the father of the Roman Governor at the time (Publius) of a desperate illness. Publius later converted to Christianity and became the first Bishop of Malta.
The city received its present name, Mdina, from the Saracens who took over the island in 870 AD. For reasons of defence, they separated Mdina from its nearby suburb, Rabat, by a deep moat, and surrounded the hill-top section of the city with stronger walls and defence towers. It is from these walls that present visitors can get a great view of the countryside.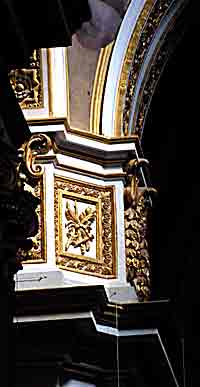 Inside the Cathedral of Mdina
Mdina is called "the silent city". Maybe the name comes from the fact that cars have restricted access. Maybe it is because the island's gentry and nobility have adopted Mdina as their "capital" and their closed and silent doors are a defence against the constant and regular change of ownership and customs that Malta has witnessed over the thousands of years of its history.
From the Romans to the Saracens, then to the Normans, on to The Knights of the Order of St John, the French and the English - many nations have had a hand in forging what we see now as Malta.
Other Travelsnapz pages about Malta:
---