Click away to:
Much more to come.
Welcome to Travelsnapz.com - a collection of travelogues, stories and photos about travel, places and people from around the world. This site is designed for your entertainment - please read our terms of use about using the site for any other purpose.
Click on a country to start your trip or choose one of our featured stories below.
The world is full of interesting places and people, so why not take a mystery trip - you'll never know where you will end up...(Go)
Have a look at the image for this month. Tech details: speed 1/180, aperture f13, ISO 200, focal length 35mm, photo date January 2002, Cesky Krumlov, Czech Republic.
Other Links
I owe all my backgammon skills to Kosta and Penny. They are great people, so if you get to Lesbos, make sure you go to the little village of Molyvos, wander down to the port and relax with a glass of white wine out of the wooden barrel and have whatever the cook recommends - it will be perfect....
(more)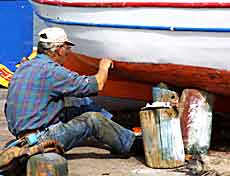 Like more information?
Contact the author at: rcdobbie@alphalink.com.au
When a fire walking ceremony is performed at night, it can be spectacular entertainment.
The ceremony begins with dancing, flashing fire sticks, .......(more)

Prague has many attractions, including soup IN bread. A glazed loaf is hollowed out to form a bowl, and even the bowl is delicious! See what else this capital of the Czech Republic has to offer or view the wonderful stained glass of St Vitus Cathedral.
Do you have a site? We are interested in reciprocal links - just email us your details.


GUIDEBOOK ENTRY:
Dargo, Vic:
Population: Nominal (323km E Melbourne) Agricultural district. Fuel available limited hours. Bush walking, fishing, gold prospecting, scenic drives, swimming (river), tennis.... (more)
Travelsnapz was launched in April, 2002.
Visitors for May 2002 - 107
Thank you for visiting Travelsnapz