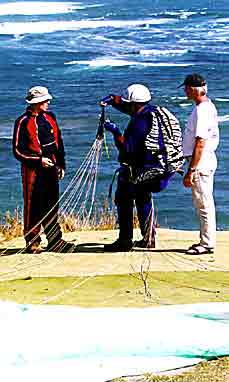 Now this string goes here
and that one goes there . . .
The weekend hackers spray golf balls at the flickering flags of the public golf course that runs along the coast at Flinders, about two hours drive out of Melbourne, Australia.
The waves roll relentlessly in from Bass Strait as a few clouds scud across the sky.
A man stands on a small rock platform that jutts out over the wave worn rocks about a hundred meters below, fingering the strings that will guide him to the heavens.
Then suddenly he is whisked up and away, disturbing the seagulls that share the million dollar view of the coastline with the weekend hackers.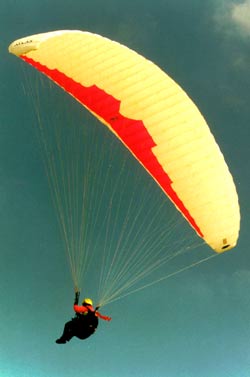 The wind here is perfect to send the chutes up into the sky so they can soar and ride the currents. So easy. They sit suspended in the draft that hits the cliffs and drives upwards - then a touch on the controls and they swoop over the trees, out over the ocean to return again to their wind perch, and wait, and watch. Hovering like a sea bird ready for prey to appear below.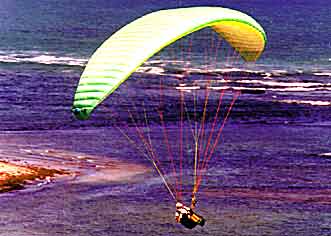 Sometimes, there are so many in the sky above that it has been suggested that a control tower should be built. But that would spoil the spontaneity of it all.