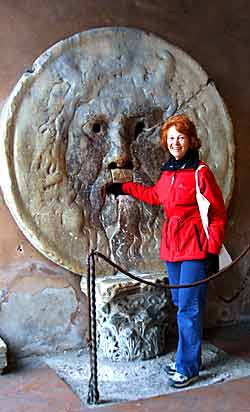 Taking the test - Jen has no problems taking the Mouth of Truth test.
Doug Stacey writes "I was in Rome a couple of weeks ago and I had bought a poster of the Bocca Della Verita and I lost it in my travels back home. If there is any one who knows where I could purchase another poster, without having to go back to Rome, please let me know. The trip was just AWESOME!!!!Thank You" Contact Doug
The Mouth of Truth has hung in the portico of the Church of Santa Maria in Cosmedin in Rome since 1632.
Every day, this cracked marble disk, depicting an image of the river god, attracts tourists and the curious (and maybe even the jealous or suspicious who want to test their partner's fidelity).
It was thought that a liar would loose his hands if he placed them in the mouth of the Bocca del Verita. Thought to be an ancient Roman ornamental drain cover, the disk certainly provides plenty of amusement and maybe just a shiver as you take the test.
But alas, the Mouth does not work any more - it was once tricked by a cunning philanderer.
The story goes that a jealous husband decided to see if his suspicions about his wife's unfaithfulness were true and had her put her hand in the open mouth of the mask. The event attracted a huge number of spectators, and as the wife was about to put her hand in the Mouth, a stranger jumped out of the crowd and started kissing and embracing her.
It was explained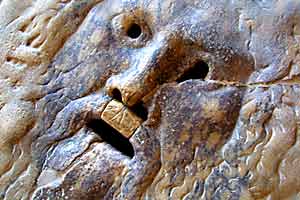 that the man was absolutely crazy and he was let go. In reality it was her lover. So when she put her hand in the Mouth of Truth and said that she had never been touched by anyone apart from her husband and this crazy man, her hand was not bitten.
But the Mouth of Truth, upset by the trickery, has refused to work since.

Other Rome Links:
[Street Photos]
[Churches]
[Fountains]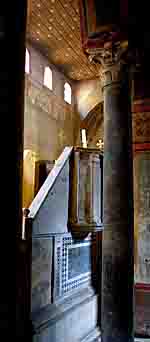 Santa Maria in Cosmedin was built over the remains of some Roman buildings in the 6th Century.
It is dedicated to the Virgin Mary and was originally cared for by Greek monks (the term "cosmedin" derives from the Greek word for "adorn").
It is well known by its tall and beautiful bell tower, but even more so by the Mouth of Truth.
So next time you're in Rome, take the test! But be careful, . . . . you never know!
Inside Santa Maria in Cosmedin.