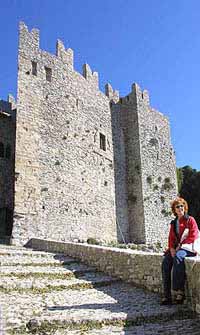 The steps to the Norman castle
Erice, the only Sicilian town that has been inhabited since pre-history, sits 800 metres above sea level on a small peak near the coastal town of Trapani. Looking to the West, you can see Trapani and the saltpans, and to the East, the rugged coastline of Northern Sicily.
The oldest structure in the town is the protective thick boundary wall which dates back to Punic times. Since then, the town has been home to the Phoenicians, the Carthaginians, the Greeks and the Romans, the Arabs, and the Normans - here myth and history intermingle in the varied architecture that greets you with every turn.
It has been an important strategic spot for many nations, due mainly to the harbour below and the difficulty in mounting any attack against the town because of its position on top of the hill. The Normans built a huge castle on the peak which improved the defences and now offers "views worth the climb".
Although the village is small in size, between the 12th and 17th Centuries more that 60 churches were built in and around Erice. There are many of these churches still standing in the town, some now converted to other uses, some lying seemingly idle and decaying. The cathedral, constructed in the 14th Century, has a magnificent front portal and a separate Gothic style bell tower which stands a few metres from the entrance. This building also doubles as a concert hall for the town's annual traditional popular music festival.
Other annual festivals and events include the special religious procession at Easter, and the Festival of Medieval and Renaissance Music in August.
Erice is cobbled streets, arched passageways, narrow laneways, cool breezes, stunning views, and lovely sunsets over the Western Mediterranean. It doesn't have the flair of the more modern Sicilian cities, but perhaps that is how it should be.
More Travelsnapz places in Sicily:
Catania, Sicily
Catania Photos
Agrigento, Sicily
Valley of the Temples, Agrigento
Marsala, Sicily
Marsala Photos
Marsala Wine
Carthaginian Ship in Marsala
Noto, Sicily
Noto Photos
Palermo, Sicily
Palermo Photos
Syracusa, Sicily
Syracusa Photos
Taormina, Sicily
Taormina Photos