Country Click:
Tunisia
Much more to come.
Welcome to Tunisia.
This is not a trip through the glossy hotel strip of the East coast where they serve cauliflower cheese to the package tourists.
Rather, this is a journey past the colorful and fragrant spices, down the narrow roofed lanes of the medinas, into the kasbahs and the ksors, past the blue studded Moorish doors, to the history of Carthage and the Roman ruins that are spread around this interesting country.
And on Travelsnapz, you do it all
for just a few clicks!
Take our Guided Tour or click on one our featured stories below.
Make sure you let us know about your Travelsnapz experience - your feedback is important to us so we can develop the site to meet your needs.
Join our visit to the Bardo Museum to see the mosaics, visit the Berber towns of the South, look around Carthage, the island of Djerba, the Roman ruins of Douga, the Holy City of Kairouan and the Great Mosque, visit Matmata, and a desert oasis, and rest a while in the luxury of the Tamerza Palace Hotel.
---

SMART CLICKS
Weather
Tunisia Online
World Travel Guide
Tourism Tunisia
Tunisia Guide
Best Guide to Tunisia
The red carriages of The Red Lizard wind their way up through the gorges and past the desert springs for a unique experience.
---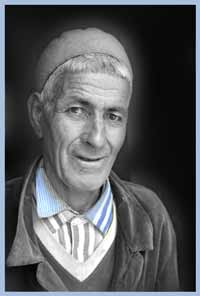 Man in Mosque in Kairouan
In El Jem, you can stride out onto the arena, lift your eyes to the imaginary crowd, draw your sword and wait for the opposing gladiator to make his move.



Photos of Le Kef Kasbah. The town of Le Kef is largely ignored by the tourist buses, but there is an impressive kasbah to see in addition to a well presented ethnographic museum.
Bizerte is a small town on the North West coast of Tunisia.
Story and photos about Nefta, a small oasis in the South West near the Algerian border.
Enjoy the luxury of the Tamerza Palace Hotel.
We have added a visitors' comment page. Tell us about your Tunisian experience.
Send us your story about your experiences in Tunisia. We'd love to hear about your visit and publish your comments . . .
Contact the author:
richard@travelsnapz.com
This site is designed for your entertainment - please read our terms of use