Country Click:
Czech Republic
Much more to come.
Welcome to the travelogues, photos and stories about the Czech Republic on Travelsnapz.com.
Visit the beautiful city of Prague, wonder at the magnificent stained glass windows of St Vitus Cathedral, wander around the fairy-tale town of Cesky Krumlov.
All for just a few clicks on Travelsnapz.
Choose from our featured stories below, or simply take the Travelsnapz tour (your first stop will be Cesky Krumlov). Want to take the scenic route? Try our Photo Click option.
We hope you enjoy what we have to offer. Remember that your feedback is important to us, so feel free to leave your mark in our Guestbook, Enjoy your Travelsnapz journey.....
---
Site Links:
---
Are you in the
travel business?



Can we tailor a package to suit you? We'll try!
---

Find out more info about the Czech Republic from the official government site.

Visit Cesky Krumlov in winter, enjoy the cold snap in the air, but most of all be surprised by the view.
---
Next time I buy a piece of hand cut lead crystal glass, I won't complain about the price, especially if it comes from
Ruckl and Sons.
Alternative accommodation choices at Hotel Ninja


Read about the Rise Loutek Puppet Company.
See a photo of the Cesny Krumlov tower and read about taking panoramic photos.
Visit the Vysehrad complex in Prague - see the birds heading South for winter.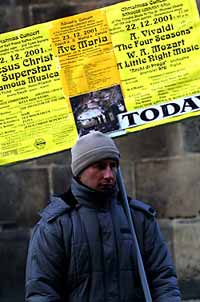 When you go to Prague, make sure you see a few concerts! There are plenty on offer and you can buy discounted tickets from vendors in the streets.

The beautiful stained glass of St Vitus Cathedral. With Travelsnapz, you can enjoy it for
just a few clicks!
Thank you for visiting Travelsnapz
Richard

Who is Richard?